Come and craft with us!
All of our Creations are $45.00 when you book online and $48.00 for walkins. We will give you all the necessary materials and provide the tools you need to complete a Creation of your choice. Do you need a little liquid courage? Visit our Concoctions page to see our drink menu.
---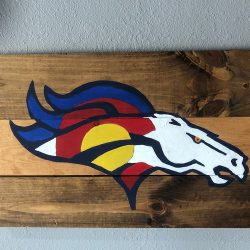 There's something wonderful about creating things out of nothing. It's like taking a lump of clay and making a lamp or some other object useful that could only come from us. It's special; it's unique; it's formed from love and some would say from pure magic as you manipulated the object into existence.
DIY Creations in Loveland hopes to give you that special feeling of wonder every time you come in and create an easy woodworking project, string art, picture board, jewelry, or other craft items. We're a social crafting tavern that offers up opportunities for you to come with friends or family, a date, a birthday party, or as a team from work to enjoy the art of craft making along with a special concoction from our bar. When you partake of a wonderful evening using your creativity with friends, you'll form memories for life. Below, we'll go over just a few benefits of craft making, and we invite you to join us anytime. Contact us today!
BENEFITS OF CRAFT MAKING
Learn new skills. Depending on the craft you choose, you'll learn new skills you never knew you had before. You'll discover you have fine motor skills as you create decorative jewelry pieces, and you'll discover you can work with small wood projects.
You'll meet new people. If you're new to craft making, you'll probably need some help outside your circle of friends whom you came with. When you try making a Colorado sign or a seasonal sign for the first time, odds are you'll have questions and need some assistance. DIY Creations in Loveland is here to guide you or help you as much as you need as you create your unique woodworking piece.
You might find a new hobby. Let's face it, craft making can be addicting. Remember when you were a kid and every new coloring piece was special? That feeling is intrinsically satisfying, and by creating unique pieces of work, you'll have that feeling repeatedly. You'll feel accomplished and probably be left wanting to do more.
DIY Creations in Loveland desires to create a space for you to spend quality time with your friends, family, work colleagues, and others in a meaningful way, away from technology and your phones. We aim to create memories, offer you a great place to relax and be with others, and leave with a sense of satisfaction, or even a new hobby. We offer team building events, kids' birthday parties, and more. Contact us today!